Research studies around the world have linked indoor air pollution to health effects such as headaches, respiratory problems, infectious diseases, chronic cough, eye irritation and lethargy. Those suffering from diseases such as asthma, allergies and lung diseases are also extremely vulnerable to indoor air pollution. The threat of indoor air pollution is a bigger problem than ever.
On average, we consume the following amounts every day. These numbers make the importance of quality clear – especially when it comes to the air we breathe.
Our mission is to change people's lives by developing and providing products and solutions that optimize health in homes, healthcare facilities and other settings. We believe that what you breathe, drink and eat should always be pure, safe and free of toxins, and that everyone should have the opportunity to lead a healthy life.
Revolutionary change in air filter technology
Air purification 2.0
ActivePure® technology is considered by experts to be the most powerful air and surface cleaning technology ever discovered and is the only exclusive air and surface cleaning technology to receive the prestigious Certivated Space Technology seal of approval from NASA's Space Foundation. ActivePure® is the only air purification technology in the world to be inducted into the Space Foundation's Hall of Fame as the only certified space technology. ActivePure® is still in use today on the International Space Station.
Viruses and pollutants are eliminated directly in the air
ActivePure® is a unique and patented environmental technology that solves many everyday indoor pollution problems both in the air and on the surfaces in the room. With the ActivePure® technology, special, natural oxygen and hydrogen molecules are distributed in the room, which actively attack pollutants, viruses and germs directly in the air and on surfaces and destroy them on contact. Contamination does not have to be sucked in first, as with conventional air cleaners, in order to remove pollutants and impurities. The advantage is active and immediate real-time cleaning as soon as pollutants, viruses and bacteria are present in the room. This applies to air as well as to surfaces on door handles and windows, appliances, crockery, chairs and tables.
With the ActivePure® future technology, clean air is created outside of the filter device. Viruses, bacteria, germs (including multi-resistant germs), aerosols, mold spores, VOC and many other toxic contaminants are eliminated directly from the air. ActivePure® brings the cleaners directly to the troublemakers.
This NASA tested and certified ActivePure® technology reduces all types of DNA and RNA type viruses. Laboratory reports show that SARS-CoV-2/COVID-19 virus in the air and on surfaces in the room is removed up to 99.9% within 3 minutes. (Biosafety Levels 3 and 4 performed in triplicate per FDA protocols, Microbiology & Immunology University of Texas Medical Branch UTMB)
Furthermore, this special technology reduces the typical symptoms of allergies, asthma and irritation in people with a sensitive immune system. Long-term studies have shown results of up to 80% less absenteeism due to infection. (Texas Medical Branch UTMB, Kansas State University)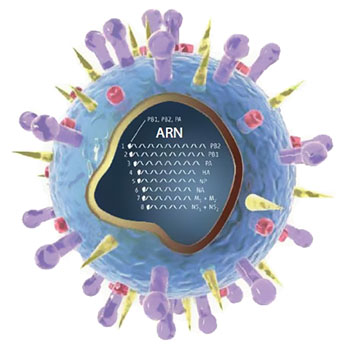 In its patented titanium dioxide cell, the ActivePure® technology forms certain natural oxygen and hydrogen compounds (hydroxyls OH-, hydroxyl radicals OH, superoxide O2-). These hydroxyl groups are distributed in the air. They are safe for humans, animals and plants and because of their charge they specifically target the viruses, attacking and destroying virus receptors. These are deactivated and are no longer contagious.
Virus with membrane: The lipid membrane is destroyed by dehydration.
Virus without a membrane: The generated hydroxyl groups act on the protein components of the viruses, whose RNA is modified by neutralization and degradation.
In 2020, Aerus Medical Guardian™ received FDA Class II medical device approval, recognizing both the efficacy and safety of ActivePure® technology. This approval has already been granted for devices of the first generation with ActivePure® technology. In the meantime, further developed air purifiers with this technology 2.0 are available to us.
Areas of application for ActivePure® air purifiers
Medical facilities, practices, clinics, gastronomy, hotels, retirement and nursing homes, schools, offices, government and administrative facilities, churches, sports facilities, trade fairs and exhibitions, conferences and congresses, major events, customer and waiting areas, households… cars, taxis, public transport with AERUS Mobile
Laboratory tests
Tests and studies of ActivePure® technology show that in almost every case bacteria (including MRSA) and fungi are reduced to zero and air quality and air purity are massively improved. The same reductions are evident in surface contamination.
ActivePure® brings safety:
Protection against MRSA, E. coli and C. diff spores
Protection against pathogenic bacteria and viruses
Reduction of breathing problems
Reducing the number of cold and flu outbreaks and sick leave
Protection against allergenic and asthma-triggering pollutants
Improved productivity through healthier, cleaner air and surfaces
SARS-CoV-2 virus reduction of 99.9% after 3 minutes in the air
Biosafety Levels 3 and 4 performed in triplicate per FDA protocols, Microbiology & Immunology University of Texas Medical Branch UTMB
ActivePure® is i.a. effective against:
SARS-CoV-2
Staphylococcus aureus
Aspergillus niger endospores (black mold)
H1N1 influenza (swine flu)
H5N8 influenza (bird flu)
MRSA (methicillin-resistant Staphylococcus aureus)
Bacillus globigii (C. difficile & anthrax surrogates)
MS2 bacteriophage – RNA virus
Staphylococcus epidermidis (Gram+)
PhiX-174 – RNA virus
Erwinia Herbicola (Gram -)
Listeria monocytogenes
murine norovirus
E. coli
Candida auris (fungus)
Botrytis cinerea (fungus)
Sclerotinia sclerotiorum (fungus)
Legionella pneumophila (bacteria)
Aspergillus versicolor (fungus)
Clostridium difficile (endospore)
Salmonella enterica (bacteria)
Laboratory reports confirm the effectiveness of ActivePure® technology in air and surface contamination
PDF
Certificate MRI Global Labors
MRI Global is FDA certified
Sars-CoV-2 tests performed on surfaces
PDF
Laboratory report from the Texas University Medical Department (UTMB)
Texas University (UTMB) is FDA certified
SARS-CoV-2 virus tested in the air and detected 99.9% less virus presence within 3 minutes. Testing was performed in triplicate at Biosafety Level 3 and 4 according to designated FDA protocols
PDF
Test report Danish Technological Institute
Declaring that the devices do not generate or release ozone, the Beyond Guardian Air® features advanced technology that does not generate ozone.
Some manufacturers who work with ionization produce ozone as a residual product from their devices. This is undesirable in any case, since an increased ozone level is already harmful to the mucous membranes and respiratory tract.
PDF
AERUS LLC Pollutant Test
Test report that no harmful substances are released from the device.
Inquiry