We donate for conservation
The forest as a natural water and air filter
Water is the basis of all life and our most important food. Because of the high water consumption of the last decades and the ongoing pollution from industry, agriculture, traffic and households, high quality drinking water has become a scarce resource in some regions of Germany as well.
The forest is a plant-based filter that purifies the water before it penetrates the groundwater layers. Trees keep nature's water balance in balance and purify our air. Forests improve the resilience of ecosystems, roots protect soils from erosion and adjacent areas from wind and frost. Forests have a cooling effect and – not to be underestimated – offer us space to relax.
With your purchase through our shop you support our donation concept – without incurring additional costs. By purchasing from BestElements, you make a contribution to achieving this goal. We donate a fixed amount of the proceeds to the nationwide forest conservation and maintenance project in Germany. Forest management has a major impact on water regulation and water quality. Clear cuts and the use of fertilizers or pesticides in the forest must be avoided so that the groundwater and thus the drinking water supply are not endangered.
Donation concept
German forests as vegetable water and air filters
A tree is planted with every filter device sold
BestElements donates for the preservation and reforestation of German forests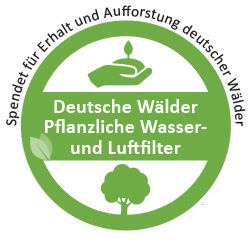 With every filter device sold, BestElements donates the amount of 5 euros required to replant a tree.
Personal thanks
"… Thank you very much for your valuable support. Your donation also enables us to fulfill our mandate … Thank you very much for your contribution."
We are happy to pass this thank you on to our customers. Many Thanks!