Mobile rich active hydrogen boosters in direct comparison
The extremely positive effect of hydrogen-rich drinking water has been proven several times in studies and the successes in many health applications are convincing. Molecularly dissolved hydrogen in drinking water is considered a fountain of youth, natural anti-aging and performance-enhancing at work, in leisure time and in sports. Mobile hydrogen boosters have the advantage of being usable at home, in the office and on the go. The high H2 saturation only lasts for a short period of time and therefore a fresh enrichment is always better than drinking stale water. In the meantime, mobile hydrogen generators have achieved very good values that even exceed those of fixed H2 stand-alone devices. We are comparing two hydrogen boosters here.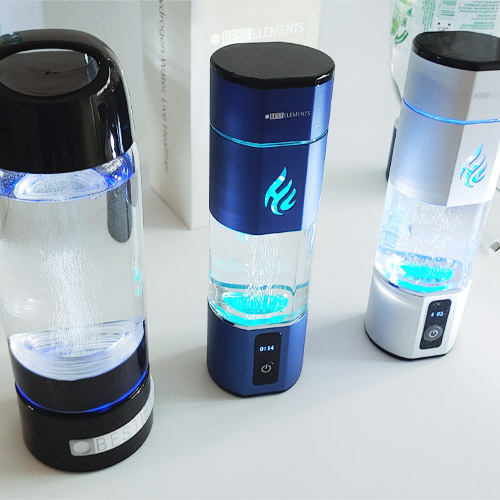 The following applies to all compared devices:
Mobile use with battery operation

Use at home, office, sport, on the go …

High hydrogen saturation (ppb value)

Can also be used with standard water bottles

Two levels of saturation can be selected

Battery charging cable included
The hydrogen boosters are suitable for tap water and filtered drinking water for daily consumption.
Here are the main differences between the H2 devices:
Glass, longer battery life, bigger, cheaper
H2 up to 3.000 – 4.000 ppb
SPE-PEM ion membrane of the 5th generation
Bottle content 380 ml
Empty weight 440 g
Glass body
Size 70 x 215 mm
Battery 3.000 mAh rechargeable
Charging with Micro-USB
.
.
Conclusion: Made of glass, longer battery life, bigger, cheaper
Lighter, extras, higher H2 saturation
H2 up to 4.500 – 5.000 ppb
DuPont SEP-PEM proton exchange membran
Bottle content 210 ml
Empty weight 340 g
Food grade PC
Size 60 x 197 mm
Battery 2.200 mAh rechargeable
Charging with USB-C
Digital time display
Several colors available
Conclusion: Lighter, extras and higher H2 saturation
Highest H2 saturation
H2 up to 5.140 ppb
Extended DuPont SEP-PEM membran
Bottle content 210 ml
Empty weight 340 g
Food grade PC
Size 60 x 197 mm
Battery 2.200 mAh rechargeable
Charging with USB-C
Digital time display
Several colors available
Conclusion: Lighter, extras and highest H2 saturation