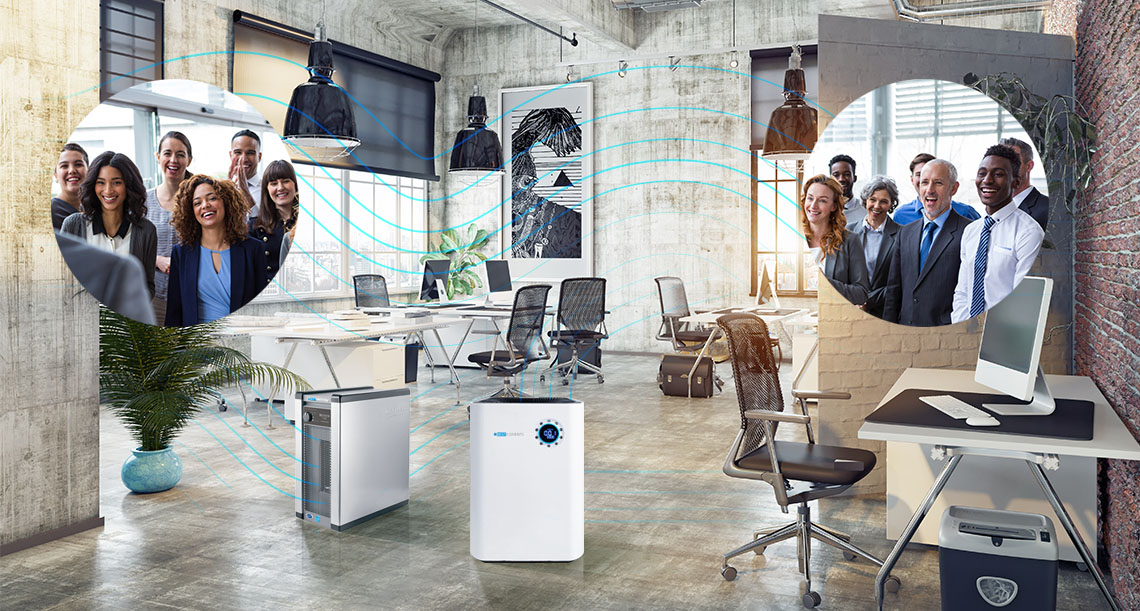 Healthy air and high performance
You can achieve a good and positive working atmosphere at work if the employees treat each other with respect, in a friendly and forgiving manner. In addition to professional work topics, there should also be opportunities for personal discussions. In this way, a team grows closer together and can work more efficiently.
The quality of the air in the office or during meetings plays an enormous role. In addition to sufficient oxygen content and the correct working temperature, the air in the room should be free of germs, viruses, pathogens, allergens such as pollen and fine dust or VOC. Infection via aerosols should be avoided. The performance of the employees is increased many times over with excellent indoor air quality.
High performance with the best indoor air quality
These air purifiers deliver optimal indoor air quality and are still energy-efficient. Thanks to new technology, you can remove viruses such as Corona and others, remove germs and bacteria, fine dust and allergens and save electricity at the same time.
These air purifiers remove corona and other viruses, aerosols, bacteria, fine dust and allergens while using little electricity.
Air purifiers for offices, meetings and retail spaces
These mobile air filters are designed for workplaces and (open-plan) offices where several people work, consult or meet in the room. A patented technology and several filter stages and with the ActivePure® air purifiers specifically remove viruses and aerosols in the air and on surfaces as soon as they appear, in addition to general impurities. Infections are minimized in real time. UV-C, HEPA, activated carbon filter stages and others work in parallel to achieve an optimal indoor climate. In sales/consulting rooms or at events, the air purifiers ensure clean air free of pollutants and support a healthy working atmosphere.