Rent effective air filters on a daily basis
Seminars, congresses, workshops, meetings, events, film shooting
Air purifiers play an increasingly important role for many people. They support allergy sufferers who get better air with these filter devices, remove pathogens from the air and help people in large cities and metropolitan areas. Fine dust, house dust, pollen, bacteria, viruses, gases, chemicals and various odors disrupt the respiratory tract, which can lead to further problems such as lack of sleep, skin sensitivity, impaired concentration and a weakening of the immune system.
The individual filter stages combined in the device and the effective interaction are decisive for the correct air filter. Criteria are the amount of air in the room, which should be removed from impurities as quickly as possible (high CADR number), with great thoroughness and reliability (number of filter stages), as quietly as possible (low dB number). There are different filter stages (different filter media) for removing the different loads and soiling.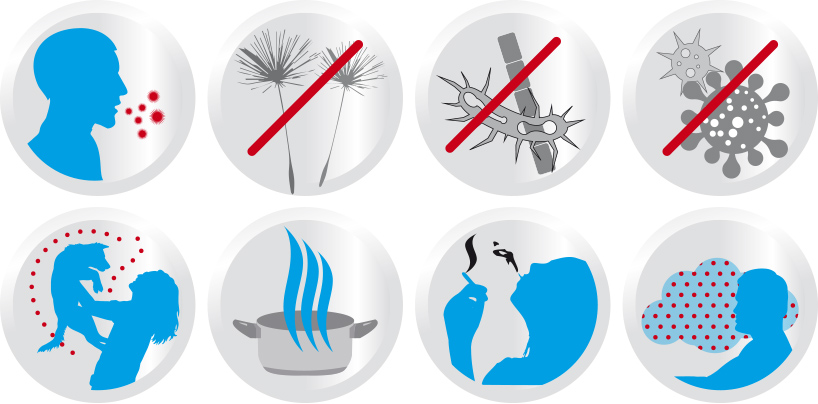 Air filter devices for events

Comply with hygiene regulations

Filter media completely included

Filter / UV media costs included

The following air filters remove fine dust PM 2.5, house dust, pollen, pollen, smoke and smoke, odors, germs and pathogens, microorganisms, bacteria and viruses, mold spores, animal hair and mites, heavy metals, asbestos, toxic dust, TVOC, formaldehyde, organic compounds, Aerosols and much more.
Air Purifier BE AIR6
Living rooms, offices, waiting and common rooms, group rooms
Filtered air volume 420 m³ to 620 m³ / h
UV, TRUE HEPA, Ion…
9 effective filter stages
Touch display with real-time display
Automatic sensor with PM2.5 display
remote control
Carrying handle
680 x 400 x 250 mm (HxWxD) 10 kg
Air Purifier BE AIR8 to rent
Seminars, workshops, group events, congresses, filming
Filtered air volume 836 m³ / h (certified)
UV, HEPA13 up to 99,95%, Ion…
9 effective double filter stages
Low noise level
Automatic sensor with PM2.5 display and color indicator
Remote control and / or smart app control
Carrying handles and wheels for easy handling
630 x 465 x 450 mm (HxWxD) 11kg
effective doubled filter stages
m³ of filtered air per hour