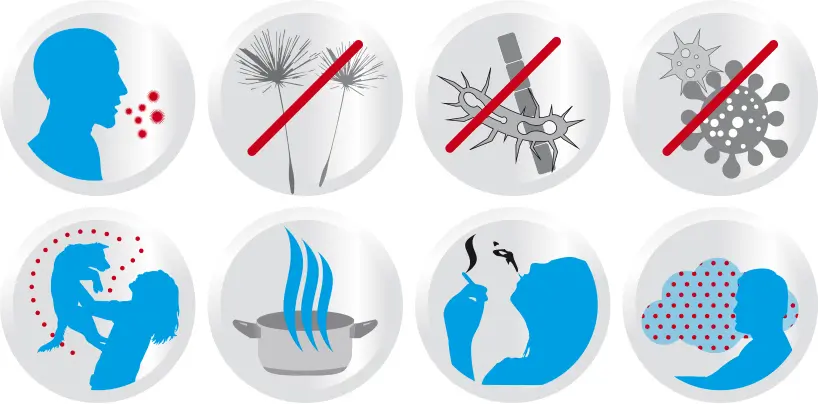 Air filters for living rooms, work rooms, waiting rooms, lounges, group rooms
Filter model

BE AIR4

Leisemeister

BE AIR6

Volksfilter

BE AIR8

Max

Filtered air volume (CADR)
240 m³ per hour
420 m³ per hour
836 m³ per hour
Room size
bis 40 m²
bis 60 m²
bis 80 m²
Noise
26 dB
34 dB
26 dB
HEPA
TRUE HEPA
TRUE HEPA
HEPA 13
Activated carbon

2x

Cold Catalyst

Photocatalyst

Usage
Living rooms, bedrooms, work rooms
Living rooms, offices
Living rooms, offices, waiting rooms, lounges, group rooms
Sensor automatic

Display

Touch screen

Real-time display PM2.5

Pollutants
Among other things, fine dust PM2.5, house dust, pollen, pollen, smoke and cigarette smoke, odors, germs and pathogens, microorganisms, bacteria and viruses, mold spores, animal hair and mites, heavy metals, asbestos, toxic dusts, TVOC, formaldehyde, organic compounds are removed, Aerosols and much more.
Ionizer

2x 107 pcs/cm³ (2x 10.000.000)*

2x 107 pcs/cm³ (2x 10.000.000)*

107 pcs/cm³ (10.000.000)
UV C

4W 254 nm*

2x 5W 254 nm*

2x 4W 254 nm
Ozone O3

500 mg/h*

Remote control

Child look

Timer

WiFi

App-Steuerung
Sizes (HxBxT)
460 x 350 x 180 mm
680 x 400 x 250 mm
630 x 465 x 450 mm
Weight
5,6 kg
10,5 kg
11 kg
Transport
Handles
Handles
Handles and Rolls
Power supply
220 V~50/60 Hz (110 V on request)
Housing color
White
White (Gold on request)
White
Change filter elements
Message after 2,000 hours
Message after 2,000 hours
Message after 3,000 hours
Advancement

eligible

eligible
Scope of delivery
Complete filter device including filter media, operating instructions, remote control
Details
Details
Details
BE classification
78 Points
89 Points
91 Points
BE Air purifier classification
Air filter: effective, efficient and quiet.
Eliminating viruses and germs from the air is an important task in the current situation and a major challenge for air filters. Pollutants in the air, such as fine dust pollution and allergens, also have a serious negative impact on our health.
Good air filters have ionizers, UV, HEPA & Co to successfully master the fight against viruses, bacteria and germs, toxic dusts and formaldehyde. Air sensors on the device confirm the success of the PM2.5 removal.
Ionizers or negative ions – also known as vitamins of the air – quickly absorb harmful substances with at least 10 million pcs / cm³ and bind various pollutants such as dust, odors, bacteria, viruses. Very good air filters even have a double negative ion filter stage.
UV light in the range of 254 nm (UV-C) eliminates mold spores, germs, bacteria and viruses. Furthermore, TRUE-HEPA up to HEPA13 filter levels filter ultrafine micron particles of up to 0.1 – 0.3 µm, bacteria, viruses and aerosols. Other effective means against malefactors in the air are individually switchable ozone filter stages with 500 mg / h.
A good air filter should work largely unnoticed and quietly during its work. A volume of 25-38 dB or more should not be exceeded if the system is not running smoothly.
Nevertheless, a high air filter rate is extremely important. The air in a room should be completely filtered 4-7.5 times per hour. Good air filters can also do this in larger rooms or rooms for groups, with a CADR of 420 m³ up to over 830 m³. This means that these air filter devices can also be used for group rooms, workshops, daycare centers and classrooms.
The air filter series from BestElements Filtertechnologie provides suitable air filters for three areas of application at home, offices and group rooms. Users in public areas are supported with a funding program. Here you can make inquiries.
*Individual filter stages can be switched on / off as required